Here is the comprehensive list of 51 unique mobile app ideas for startups to make money for business.
CONTENT TABLE
Aspire to become an entrepreneur?
As an entrepreneur, your biggest challenge is to come up with a trending mobile app idea that has the potential to fetch millions of dollars.
In the wake of an increasing number of mobile apps on the Google Play Store and iPhone App Store, creating successful mobile applications will require a lot of hard work and little luck as well.
On the Google Play Store, there were nearly 2.6 million mobile apps available as of December 2021. (Source)
Talking about the Apple App Store, there were around 2.22 million mobile apps available in the first quarter of 2021. (Source)
In other words, it is going to be hard to come up with innovative mobile app ideas that will beat the competition and rise to the top of the charts of the Play Store and App Store.
Fortunately, we're here to help you with your struggle.
With this blog, we're going to present you with the 50 best mobile app ideas that can be made into successful startups in 2022.
51 Innovative Mobile App Ideas You Can Consider in 2022
Listed below are some of the best ideas for developing mobile apps in 2022 that you can follow.
1. EV Charging Station Finder App
In tandem with the growing demand for electric vehicles, there is a growing demand for EV charging stations.
Although there are more eclectic cars on the roads, there are still not enough charging stations to enable people to charge their electric vehicles. Therefore, establishing a mobile app for finding EV charging stations will make it easy for people to find the nearest charging station.
Through the development of such apps, people will be able to browse a variety of information about electric charging stations nearby, such as compatible electric cars, photos, charging costs, and availability of charging slots.
Moreover, you can integrate the payment gateway system with the EV charging station finder app to allow people to make an upfront payment via the app to reserve a charging slot in advance.
2. NFT Marketplace Development
NFTs have grown increasingly popular in recent days, so does the demand for the NFT marketplaces where NFTs can be listed for sales from creators all around the world.
NFT marketplace development serves as an excellent option for those seeking a unique opportunity to showcase the intellectual property and creative collectibles while promoting the efficient handling of digital assets.
The OpenSea marketplace is one of the largest NFT platforms, with an annual transaction volume of 10,390 million US dollars. You can also create an NFT platform similar to OpenSea to create a billion-dollar-worthy successful startup.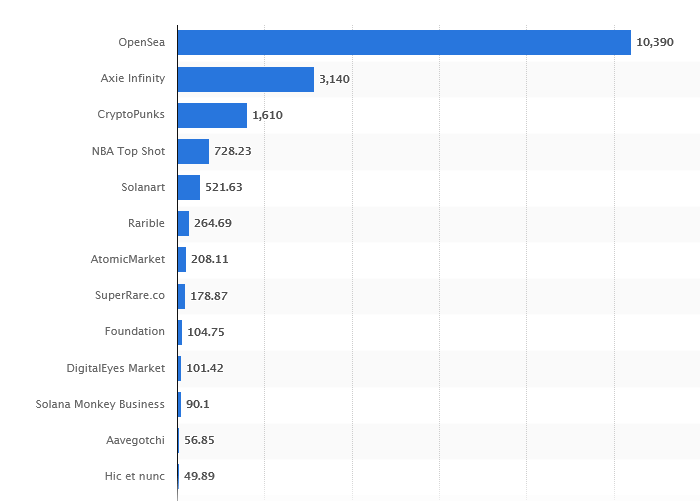 Source: Statista.com
3. Defi Lending Platform Development
50 billion US dollars.
This is what the Defi platform market is cloaked in during the first quarter of 2021.
There have been massive increases in decentralized lending platforms' popularity and predictions predict that it will double or triple by the end of 2022 from what it was in 2021.
It would therefore be a wise decision to invest in the development of the Defi lending platform in 2022 and the following years too.
Defi lending mobile app serves as a medium for the cryptocurrencies users where they can lend their cryptocurrencies in exchange and can make some interest on the loan.
4. AI and ML Based Astrology App
Predictions of the future have always intrigued humans. From ancient times to the digital age, the charm of astrology transcends numerous cultures and eras.
Nowadays, many tech-savvy individuals are turning to mobile apps for their future guidance rather than humans. Thus the idea of astrology mobile app development makes use of technologies such as AI and machine learning (ML) to make better future predictions.
Co-Star is one of the great examples of AI-based astrology apps. It asks for your date and time of birth and creates a hyper-personalized marketplace based on that information.
When it comes to costarastrology.com's market statistics, it is ranked 82,496 globally, with 800,62k unique visitors as of December 2021.
This means there is a growing market for AI and machine learning-based astrology apps, thus building such a mobile app will bring you a lot of revenue.
5. Blockchain Medical Support System
Blockchain is the new age of technology that is expected to shape a wide range of industries in the forthcoming days including healthcare.
The blockchain-based medical support system can facilitate secure medical records transfers between patients and their doctors.
If you are someone looking to innovate healthcare mobile app ideas, then blockchain-based mobile app development will serve as your right opportunity.
6. Blockchain-Based Money Transfer App
Ever wondered what motivated the development of Paytm in August 2010?
Most probably the need for a digital payment system so that all transactions can be conducted online without having to physically visit a bank.
When technology has advanced to a great extent today, making an online payment isn't the concern anymore, but ensuring the security of the payment is.
This is what invented the need for a blockchain-based money transfer app.
Unlike traditional money transfer apps where banks are intermediaries to ensure the transfer of money, blockchain-based money transfer apps facilitate a direct, secure transaction between sender and receiver without the involvement of any intermediaries.
Be at the forefront of the innovation by developing a blockchain-based mobile payment app and ensure steady business growth.
7. VR Based Virtual Travel App
In the event of a pandemic, what do you miss most? The liberty to travel anywhere, right?
The advent of VR travel apps has been proving to be an answer to all the needs of travelers at a time of pandemics.
This mobile app allows you to explore an area or real-world location as if you were actually present without ever having to leave the comfort of your home.
The VR travel & tourism market was valued at $74.6 million in the year 2018 and is projected to reach the milestone of $304.4 million by the year 2023 with an annual growth rate of 32.5%. (Source)
8. VR Based Interior Designing App
Imagining designing your home by yourself is a dream come true for many people.
There is a great deal of struggle associated with decorating the interior of homes and offices. You can reduce this struggle to a considerable degree by developing a virtual reality-based interior design.
9.  Suicide Prevention Mobile App
Suicide is a worldwide concern.
It might surprise you to learn that 13.42 out of 100,000 people in the United States commit suicide.
A mobile app that fosters a sense of safety for people who are struggling with suicidal thoughts will not only be a noble cause, but it will also enable you to make a considerable amount of income.
10. Toy Exchanging App
Do you have kids? In this case, your house probably contains lots of toys that may no longer interest your children.
This is true with every parent.
Think about having a platform where you can list your kid's old toys for sale or trade them for new ones.
Seems interesting right?
Furthermore, the toy market size around the world is also growing. Toy market size was 90.7 billion in 2020, expected to grow at a CAGR of 4.3% to become a 132.1 billion industry by the year 2028.
11. Mobile App to Stay Up-to-Date With Current Laws
There are thousands of lakhs of laws and above that, with each passing day, new laws come into existence. If you do not have photographic memories, you will not be able to remember them all and stay current with laws.
The development of a mobile app that acts as a library of laws will gain the attention of people who have trouble remembering them.
12. Blockchain-Powered Tax App
The process of filing taxes is time-consuming and expensive. It is anticipated that the incorporation of a blockchain-based tax app would reduce potential transactional costs and allow for a more streamlined, efficient, and effective tax function, which is a significant benefit.
13. Virtual Fitness App
Virtual fitness app development aims to bring the next level of the exercise experience. Using such a mobile application, users will be able to experience a fully immersive space where individuals can perform just as they would in the real world.
Get the Best Fitness App Development Solutions to Empower Your Gyms & Fitness Training Business
14. Cloud Meeting App
The popularity of cloud meeting apps like Zoom is recording a considerable amount of growth during the time of Covid-19.
The Zoom cloud meeting app-generated revenue of more than 2.6 billion US dollars in 2021, generating more than half of those dollars from the USA alone.
The need for online meeting apps is constantly evolving, so it is a profitable niche to invest in a Zoom-like cloud meeting app development.
15. Food Donation App
Nearly a billion people around the globe are hungry, while a third of the world's food ends up in landfills. This is shocking, isn't it?
To address this a mobile app may be developed where individuals can register themselves and request that leftover food be picked up later this food will be delivered to the needy ones.
Besides serving a noble purpose, developing mobile applications can also earn you money. You can invite people to make donations on your app to support your donation activities, similar to what food donation mobile apps like Food Cowboy are doing.
16. Online Fuel Delivery App
A mobile app that delivers the fuel at your doorstep just like Amazon does, sounds handy right?
Online fuel delivery app development is one of the best app ideas for beginners that can be made into successful startups at a low amount of investment.
17. An Online Virtual Assistant
Have you ever used a virtual assistant's app like Siri or Google Now? If so, then you probably know how useful they are.
In the year 2016, the virtual assistant market was valued at 1.36 billion; this market is predicted to reach 17.72 billion by 2023 at a CAGR of 38.82%.
Growth in the market seems profitable, doesn't it? Thus, creating your own online virtual assistant would seem like a highly lucrative decision.
18. AI-Based Picture Translation App
Have you ever used Google Lens on your mobile device? If so, you know how valuable this tool is for translating language written over the image into your native language.
Likewise, you could create an app similar to Google Lens to aid those who find it difficult to understand the language written over the images.
19.  Crime Alert Mobile App
What if we had an app similar to Facebook or Instagram that allowed people to share crime stories happening around them? As a result of these crime stories, the community can be informed of the crimes so they can take sufficient measures to prevent such crimes from happening to them.
The Citizen app is one of the best examples of crime alert mobile applications. Wikipedia reports that the Citizen app had over 5 million active users as of June 2021. This indicates how large the market for crime alert mobile applications is.
20. Matrimony App
3.78 billion INR
It is the revenue generated by the matrimonial apps in India for the year 2021.
Nowadays, matrimonial apps are serving as one of the most effective tools for matching a suitable bride with the right groom, and vice versa.
21. Elearning Apps
Uninvited guest Covid has disrupted the entire global education system. In order to curb the spread of viruses and make sure continuous education, more schools, colleges, and other learning institutions are utilizing digital learning experiences.
In 2019, the e-learning mobile app market was sized 101 billion U.S dollars. In 2026, it is estimated that the market for e-learning platforms will reach over 370 billion US dollars. (Source)
22. IoT Based Logistics and Transportation Apps
According to Alliedmarketreaserch.com, the global logistic market is expected to become an economy of $12,975.64 billion by the year 2027. That shows how big the logistics and transportation industries are.
IoT could be applied to the logistics industry to bring speed, agility, and reliability into the industry.
23. AR Based Real Estate Apps
All organizations involved in the real estate industry could benefit from AR-based real estate apps development.
The app allows potential buyers to your properties through their smartphones no matter where they are physically located.
In this digital era, such an application has the power to take your real-estate business to a whole new level.
24. Find a Cofounder
Without a business partner, building a business from the ground up and working in a competitive environment can be quite challenging. The problem is that it is difficult to find a business partner who shares the same values as you.
This is the time when finding a cofounder mobile apps come into existence.
On these mobile applications, you can find references to thousands of other people who are looking to start their own business.
25. On-Demand Doctor App
A mobile application that allows both doctors and patients to communicate remotely is the most desired thing at the moment.
Also, market growth for on-demand doctor apps seems positive. According to estimates from 2017, the market was worth 2.4 billion dollars. By the year 2025, the market is expected to reach over 11 billion dollars.
26. E-Scooter Sharing App
When you visit new locations, what is the first thing that bothers you? Access to a vehicle for commuting.
To offer convenient and eco-friendly transportation, you can develop an e-scooter sharing app.
Statistics from Statista predict the global e-scooter sharing market will be worth $1,752m by 2022. A 13.30% annual growth rate is projected to propel this market to the milestone of $2,888 million by 2026.
27. Online Milk Delivery App
These days, everything can be delivered to your door, so why can't this be the case with milk? It is possible to develop an online milk delivery service to connect local dairies and individuals so they can order fresh milk remotely from the comfort of their homes.
28. Price Comparison Apps
Saving is in the nature of human beings. By developing a price comparison app, you will allow the users to compare prices for similar products or services from different sellers. By doing so, buyers can purchase a similar product for a lower price.
29. Augmented Reality Jewelry Shopping App
AR-based jewelry shopping apps offer customers the opportunity to virtually try on jewelry before they purchase it to ensure it provides the feel exactly as they expect.
mirrAR app is one of the great examples of an augmented reality-based jewelry shopping app.
30. Symptoms Tracking Apps
Wouldn't it be nice to have an app that allows you to upload your symptoms, and the app provides you with detailed information on the flu/viruses that may be responsible for your symptoms?
The concept is still relatively new and there is a large market opportunity to be covered for symptoms tracking app development.


31. Stress Relaxing Apps
Stress is one of the major issues to consider. According to The Recovery Village, almost a third of the world's population experiences stressful situations that negatively affect their mental or physical health. So, don't you think it might be a good idea to develop a mobile app that helps people deal with stress?
32. Parking Finder App
Isn't it true that cities are shrinking? Finding parking has gotten increasingly difficult as the number of vehicles increases. To address the issue of parking, you can develop a parking finder app that leads the drivers towards the vacant spot where they can park their cars.
33. Pregnancy Helper Mobile App
Every mother's journey through motherhood is unique and life-changing. Motherhood also brings a lot of difficulties. Considering the fact that a mobile app can provide assistance to women during their pregnancy, don't you think it will be a brilliant mobile app idea that can be turned into a successful startup?
34. Home Security App
We all love the feeling of comfort and safety and this is what a home security app can provide you with.
With IoT, you are able to build an app that notifies you in case of an emergency occurring at your property, as well as gives you useful information about your home.
35. Barter Exchange App
It is common for many of us to own the items we once brought and now they sit untouched in our stores, collecting dust.
What if you could sell or exchange the stuff that you no longer use for the other stuff? This is one of the best app ideas for beginners to start their startup journey at much lower prices.
36. On-Demand Pet Care App
On-demand pet care app development is an ideal solution for pet owners to attend to their pets' needs without even leaving the house.
According to Grand View Research, the pet care app market size was valued at USD 2.6 billion in 2019 and is expected to grow with an annual compound rate of 8.7% during the forecast period of 2021-2027.
37. ML Based Stock Trading App
An automated stock market prediction system has long appealed to investors. Technologies like machine learning can be used to analyze the millions of data points of the stock trading and execute the trades with optimal results.
38. Metaverse Based Wedding Planner App
In the digital world, the metaverse is the new buzzword. Now a lot of people are planning their wedding to be organized on the metaverse.
Become the first to develop a wedding planner app based on a metaverse where you can create invitation cards to allow people to attend a marriage in the metaverse from the comfort of their home.
39. Virtual Study Room App
As the spread of Coronavirus continues, students are increasingly forced to attend online classes. They definitely miss out on the feel and experience of the real classroom.
With the help of virtual reality, you can create a virtual study room mobile app where students can create a real-world classroom application just like they would do in the real world.
40. Real-Time Voice to Text App
Typing is a tedious task for many of us. By developing a real-time voice-to-text converter mobile app you can draw the attention of those people.
Google Doc voice typing is one of the great examples of such tools.
41. Audio Based Social Mobile App
Are you thinking of a social media mobile app development, then this idea is meant for you? You can develop audio-based social media apps like Clubhouse where people share their thoughts in the form of audio rather than text or images.
As of February 2021, the audio-based social media app had roughly around 10M active users. (Source). This illustrates how serious and demanding the development of clubhouse apps is.
42. Pet Training App
The very first thing people expect from their pet when they bring it home is that it obeys all their commands. What you can do is, you can create a pet training mobile app and start uploading tutorials on how to train your pets to obey all your commands.
43. Tenant Finder App
Tenant finder app facilities both landlord and tenants to match up with each other. On such an application, tenants can find accommodation that matches up with the budget and luxury they want. While the landlord can find an ideal tenant for their property.
44. Meme & GIF Maker Mobile App
In the digital culture memes & GIFs are serving as a great way of entertainment. It might surprise you to learn that 63% of USA citizens use memes and GIFs as their preferred mode of communication. (Source)
Thus developing a mobile app where people can create and share memes & GIFs will most likely be turned into a successful startup.
45. Try-and-Buy Car Mobile App
The idea of developing a try-and-buy car mobile app can be accomplished with the help of technologies like augmented reality and virtual reality.
With the help of such a mobile app, car manufacturers and dealers can offer their customers a virtual showroom, where they can inspect the exterior & interior of the cars, and even test drive them, without having to leave their own homes.
46.  Weather Reporting App Powered By IoT
An IoT (Internet of Things)-based weather reporting system can provide all of the climatic information via the internet, including temperature, humidity, rain, and others.
There are various weather reporting apps available in the market, but there are only a few that make use of IoT to predict the weather. So developing such a mobile application has plenty of room for growth.
47.  Air Pollution Monitoring App
Increasing air pollution is a global problem, various organizations are working towards reducing the air population. In this case, you would have the opportunity to develop an app that would assist people in monitoring the quality of the air.
As per the report of Markets And Markets, the global air pollution monitoring mobile app market was valued at 367.0 Million in 2016. It is projected that this market will reach USD 544.6 Million by 2022, growing at a CAGR of 7.05%.
48.  Terms & Conditions Scanning App
We are required to agree to the terms and conditions of any application we download or contract we sign. In such a case, how can we be sure that the signing terms & conditions are not going to put you in any danger?
There is a possibility of developing an app that will scan the multiple pages of terms and conditions on your behalf and highlight the clauses that bother you.
49. Song Lyrics Tracker App
When traveling, we often hear a song that is pleasing to our ears, but we do not always know the song's name so we cannot download it.
When such a situation arises, song lyrics tracking can be extremely useful. All you have to do is open the application, let it hear the song and it will tell you exactly what song is playing.
It sounds intriguing, doesn't it?
50. Dating & Chatting App
As online dating becomes more and more popular these days, developing dating and chatting apps for mobile devices will be a highly profitable decision.
Such applications allow people to conveniently meet and connect with like-minded people. Tinder is one of the best examples of dating and chatting mobile apps.
51. Family Update Mobile App
The family update mobile app acts as an intermediary between all the family members. By using such applications they can share a variety of information including current location, with whom they are, when they will be reached home, and so on.
You can develop a similar application to ease the worry of family members and offer them the convenience of staying in touch with others.
Would You be Interested in Making an Application
Based on The Above Ideas?
How Much Does It Cost to Develop These Best Mobile App Ideas?
As every mobile application serves a different purpose, there are bound to be some differences in features, level of complexity, UI/UX design, functionalities, technologies, and so on. Thus, it is very difficult to estimate how much it will cost to develop a mobile application, regardless of whether it is a basic application or an application with advanced features.
Developing a mobile application costs a great deal of money based on the hourly rate of the developers for your specific project. Most often, the hourly price of the developers varies from one country to another. This section presents an overview of what developers charge in each country. (Source)
United States & Canada: $50-250 per hour
Eastern Europe: $20-50 per hour
Western Europe & UK: $50-150 per hour
India: $15-30 per hour
Australia: $50-150 per hour
Start Bringing Your Idea to Life
The mobile app development industry is continually growing and boosting your business through it. Further, the application must also stand out from the rest, in that case partnering with a mobile app development company may be the best option.
If you have a trending mobile app idea, then connect with Konstant Infosolutions to make it a reality. A highly experienced team of mobile app developers employing state-of-the-art technologies will help you succeed with your app idea.