The best smartwatches of 2022 in comparison
 
Editor's recommendation
Android alternative
Ultimate fitness smartwatch
Best premium model
Best price-performance ratio
Best Fitness Smartwatch
Best battery life
Best Hybrid Smartwatch
Product
Garmin Epix 2
Image
Advantages

Bigger, brighter screen
Charges up to 33% faster compared to the Watch Series 6
IP6X certified: Waterproof plus now dust protection

Connectivity between Watch and phone
Very good AMOLED display
Beautiful user interface
Compact, lightweight and high quality
ECG, pulse, pulse oximeter, blood pressure, body composition

Huge accessory ecosystem
Great tracking features
Great running analysis functions
Robust build, optional sapphire crystal

High-quality workmanship
AMOLED display with up to 1,000 nits
Precise GPS
Many tracking features
Cool operation via 3D crown

Great and versatile fitness tracking
Sophisticated and successful app
Robust design

All-round successful design
comprehensive tracking features
great implemented training plans
excellent ecosystem

Strong range of functions
Easy to use
Design with analog charm
Good health app

Cons

Nothing new, but: Apple Watch only works with iPhone

Battery life rather short
Some tracking features only with Samsung phones
Not usable with iPhones
Only 7.6 of 16 GB of memory can be used
No support for Qi charger

Lacks smartwatch features
Only one size available

Communication to Android not always perfect
Very few apps (as of August 2021)
No reply option to notifications

Closed ecosystem
Operation not optimally solved
Restrictions without premium subscription

Ecosystem not very open
Battery not perfect

Conservative pedometer
Sleep tracking inaccurate
Usability unfavorable as a sports watch
Problems with pulse measurement
High price

Rating
Read review
Read review
Read review

Not yet rated


Read review
Read review

Not yet rated


Read review
Buy Now:

Not Available
Last year, I earned a lot of criticism for my list of the best smartwatches! That's because NextPit hadn't tested many of the models mentioned in the past. That's changed in early 2022, and except for the brand new TicWatch Pro 3 Ultra, we've checked out all of the smartwatches. In addition, I put this list up for discussion in the newsroom and, most importantly, discussed my picks with Stefan – smartwatch pro and trained fitness trainer.
In the following article you will find a short buying guide first of all. Because before you decide on a smartwatch, you first need to know what is important. Then I present each recommendation in two paragraphs and a table. In doing so, I also explain why I find the smartwatch suitable for the respective category.
Jump To:
First and foremost, you shouldn't look at your wrist, but in your pocket. The question of which smartwatch is right for you depends largely on the smartphone operating system you use. If you use an iPhone and therefore Apple iOS, you should go straight for an Apple Watch. At the linked site you will find a separate buying guide with all currently available models.
If you use an Android smartphone, you are spoilt for choice! And usually models that have to compete with Apple's smartwatches in terms of feature set, connection to the smartphone, ease of use and build quality. So here's what a smartwatch in 2022 needs to master well:
Requirements for a good smartwatch in 2022
Good connectivity to the smartphone and self-sufficiency: Smartwatches are to be used as an add-on to a smartphone. Therefore, they need to make certain functions easier or at least easily accessible. In addition, mobile phones benefit from the data that the smartwatch collects on the wrist. So the connection must be flawless and simple. There is also a certain degree of autonomy for tracking or multimedia functions. A smartwatch should be able to measure the distance via GPS while jogging and possibly even make calls on its own. An LTE module is an important prerequisite for this.
Ease of use: How well and easily can the Smartwatch be operated? Are there mechanical operating options such as crowns or bezels or is the operating system also easy to operate via the touchscreen?
Vital Signs & Functions: While all smartwatches can measure your pulse, there are many additional features. These include measuring your blood oxygen, blood pressure measurement, ECG features, and more. The more fitness features a watch offers, the better. Other features that are a basic requirement are telephony, music control, independent music playback, digital payments.
Quality and value: Smartwatches can be prestige objects if you want them to be! High quality of workmanship including waterproofing and premium materials is another aspect you should pay attention to. Of course, it depends on how important these features are to you. Because as a rule, the price also increases with higher-quality materials.
Battery life: A long battery life is an advantage when you have a watch on your arm. However, this feature doesn't come without its pitfalls. Some smartwatches offer super-long battery life, but are very thick and clunky in exchange for higher battery capacity. This is where you need to find the right -mAh- capacity for you!
At the top of this article I have presented you all the winning smartwatches in 2022 in a table. If you want more information, you can find it in the paragraphs below. For even more on the individual models, check out the linked reviews.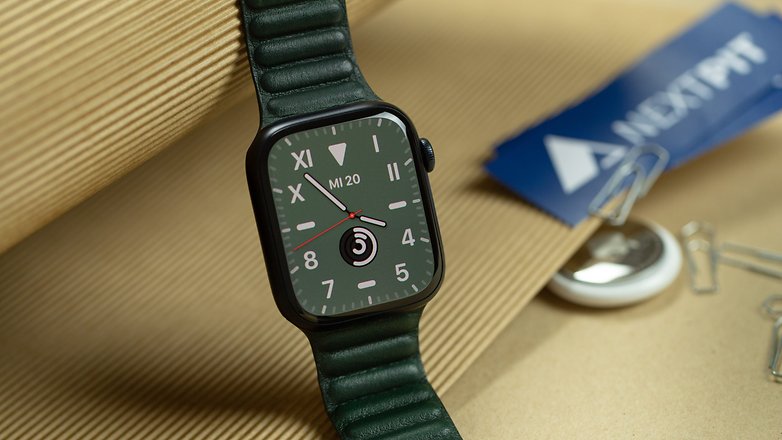 It's really a nuisance that the best smartwatch is out of the question for many smartphone users. After all, the biggest criticism of the Series 7 is still that it only connects to iPhones. Nevertheless, the Apple Watch is the smartwatch par excellence. It offers an unmatched comfort in operation and in the connection to the smartphone, offers all common functions and countless apps.
The new model scores above all with a larger and brighter screen. In addition, it charges 33 percent faster than its predecessor via the new charger and an IP6X certification now also ensures better durability. What Apple hasn't been able to improve, however, is battery life: the Watch Series 7 lasts about a day. Do you want to buy it right away? Click below!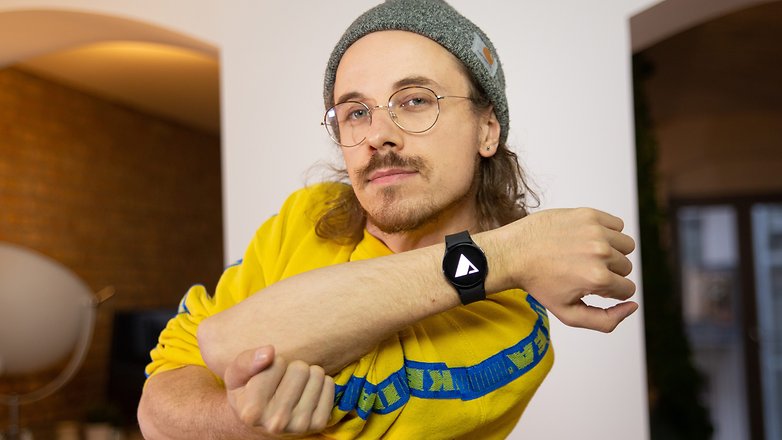 The best Android alternative from my point of view presents the Galaxy Watch 4. Released in 2021, it represents a new direction for Samsung in several ways. Firstly, the design of the standard model now resembles the former Watch Active and secondly, there is a new operating system instead of TizenOS. The WearOS-based OneUI Watch performed very well in the test.
Besides the good connectivity to the phone, there is a high-quality and powerful hardware including unique tracking functions. In return, the battery life is low due to the compact case, and some tracking features are Samsung-exclusive. Does the battery life bother you and do you miss the rotating bezel? Then maybe the Classic model is something for you! However, we don't have a test here.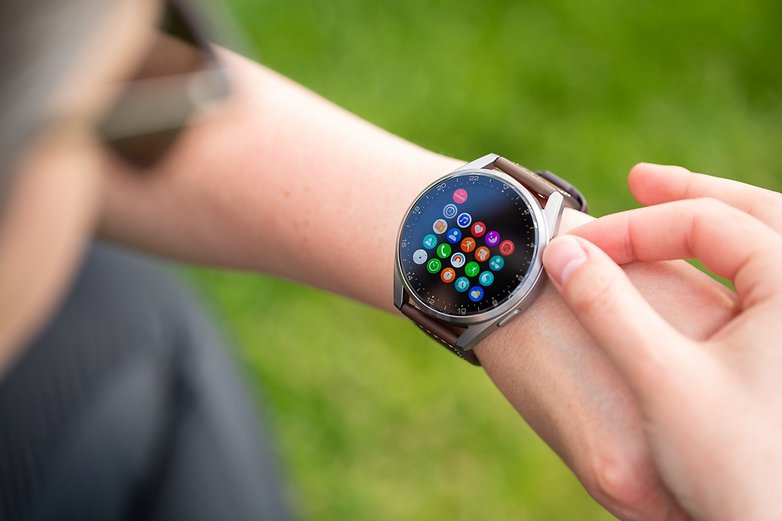 Besides Apple's WatchOS and Samsung's One UI Watch, we have another new smartwatch operating system on the market. HarmonyOS is Huawei's own creation, and on the Watch 3 Pro we were able to try it out for the first time. Although there are still quite few apps at the beginning and the connection to the phone is not always optimal, the hardware of the Huawei Watch 3 Pro is completely convincing.
Huawei relies on high-quality materials like titanium or ceramic for the casing. In addition, the build quality is beyond reproach. The device is operated via a nice 3D crown and the AMOLED display is super bright with 1,000 nits. If you're looking for a heavy, sturdy and valuable smartwatch, you shouldn't miss out on the Huawei Watch 3 Pro.
Colleague Stefan once again pointed me to Garmin's Fenix models in the run-up to this article. These are indeed very high-quality and can cost well over $1000. Unfortunately, we have not tested them and therefore I will only mention them here. By the way, the Apple Watch Series 7 is also available with a titanium case and anyway, I have already praised the workmanship. For iOS users, of course, the Apple Watch comes especially into question! The Huawei Watch 3 Pro is not available in the US.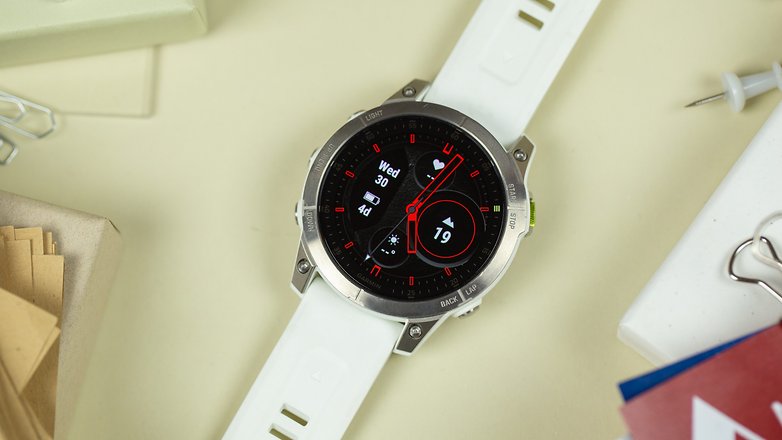 It doesn't get any better than this: whether you're playing golf or plunging into the water on a surfboard, scrambling through the mountains or having strapped your feet to skis under your feet: the Garmin Epix 2 has the corresponding modes with countless extra functions for every conceivable sport. Want to check out some examples?
The Garmin Golf app is aware of 42,000 golf courses, while the right app informs windsurfers about wave height, swell direction, swell period, water temperature, and more.Outdoor sports enthusiasts can look forward to comprehensive map material including precise GPS navigation, with a chest strap that can be purchased separately. There is also a precise running style analysis. And for snow lovers, there are maps of more than 2,000 ski resorts on the watch. The list simply goes on and on.
You can also precisely track your sets in the gym. The Epix 2 automatically recognizes many forms of exercises, such as bench presses or deadlifts, including the number of repetitions. All you have to do is enter the weight to record your workouts. Of course, there are also the usual tracking functions for sleep, stress level and recovery with heart rate variability and resting pulse.
While all wishes are fulfilled in the sports features, there is still room for improvement in terms of smartwatch functions. Garmin Pay, for example, does not offer as broad support for banks as Apple Pay or Google Pay. And the notification system is also less powerful compared to the rivals from Samsung, Apple and others. Still, if sports are your top priority, the Garmin Epix 2 is simply the ultimate sports watch.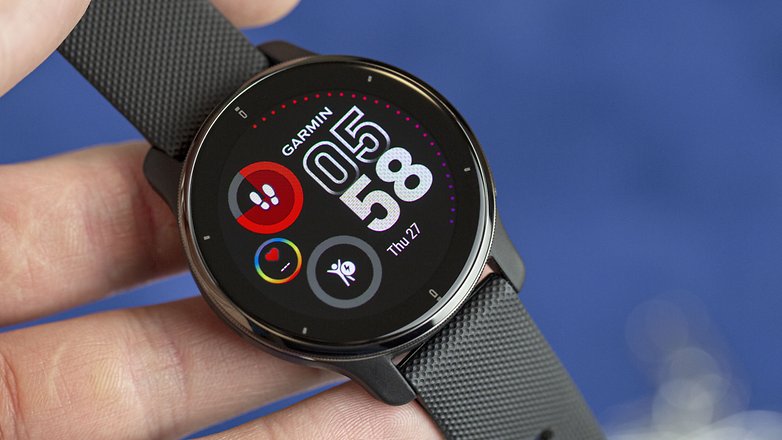 Do you think that the Epix 2 is too expensive and/or too bulky? Then perhaps the Garmin Venu 2 Plus would be the right fit for you. The sports watch could almost completely convince us with 4.5 out of 5 stars in the review and only offers a slightly reduced feature set compared to the Epix 2. While the fitness smartwatch can hardly be beaten in terms of sports functions, it has a slight weakness in terms of smartwatch functions. Although the latest model can now also make calls thanks to the microphone and speaker and supports voice assistants, the Venu 2 Plus is simply not on the same level as the competitors from Samsung or Apple.
A great strength of the Venu 2 Plus is the Garmin app, which comes with numerous training plans and detailed analysis options – and of course the smartwatch tracks just about everything you could wish for. The only exception: there is no ECG function. Garmin embeds all of this in a comprehensive ecosystem tailored for athletes. If you want to be very precise, you can also buy additional accessories such as chest straps, speed and cadence sensors, and temperature sensors to link them to the Garmin Venu 2 Plus. Class!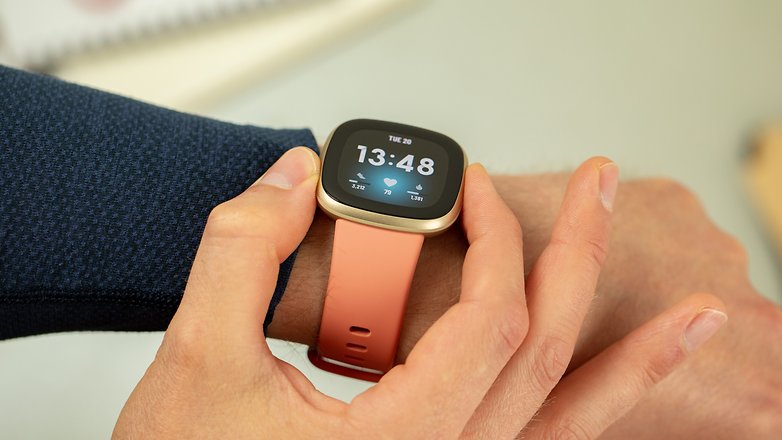 Our price-performance tip is, with some restrictions, the Fitbit Versa 3. Because the acquisition costs of the smartwatch are low at just under $160 in November 2021. At the same time, the model offers a range of functions that can definitely compete with the rivals in this best list. The display is AMOLED, the operating concept is well thought-out, and the variety of sensors is top.
You can record your jogging routes via GPS, measure your heart rate and go to the bakery without a wallet thanks to digital payment. However, there are limitations due to the premium subscription. If you also want to do mindfulness exercises or evaluate the measured body data in detail, you will have to pay monthly costs.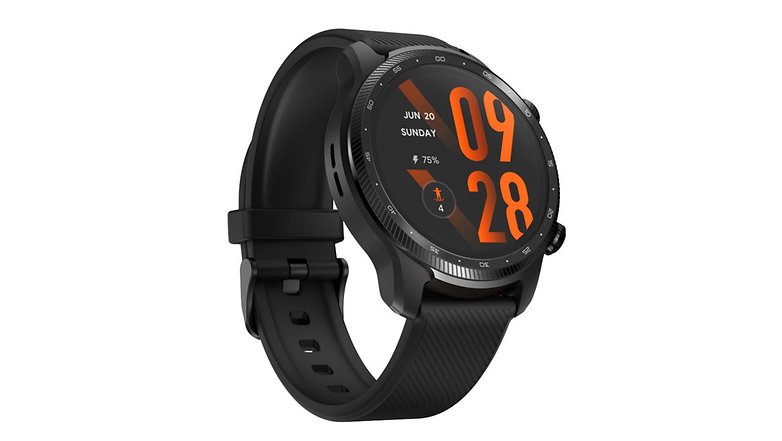 In our next tip, we have only been able to test the predecessor model so far. In the latest model from TicWatch, the battery is supposed to be even longer in Essential mode. Thus, the smartwatch lasts up to 45 days. Admittedly, only the most basic functions are available here.
Without power saving, the battery life drops to a still very good 72 hours, at least according to the manufacturer. The TicWatch Pro 3 Ultra is a rather chunky smartwatch that is designed for outdoor use. A good water resistance, as well as a certification according to the military standard MIL-STD-810G, are on board.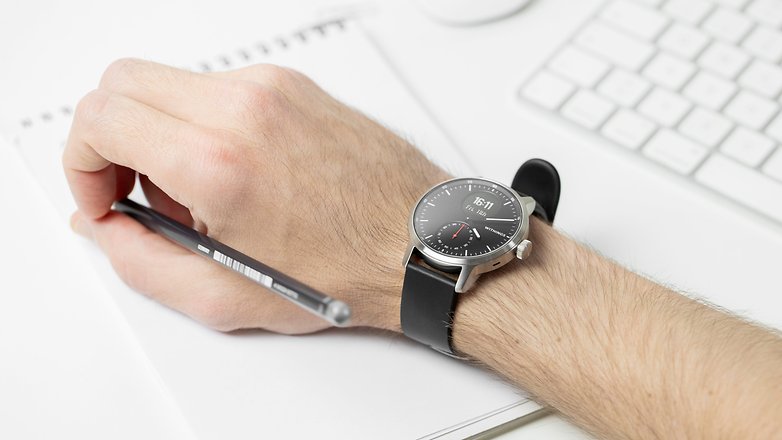 For my last smartwatch recommendation, I introduce you to another quite exciting product category. Hybrid smartwatches have a classic watch face including hands, but are connected to the mobile phone via Bluetooth. This way, the Withings ScanWatch transmits the data from the heart rate monitor as well as your step count to your smartphone. At the same time, there are also a few smart features on the watch.
As Berti found out in the test, the watch shows you notifications and incoming calls on a small OLED display on the watch face. The whole package can't be compared to a "real" smartwatch, but the watch is supposed to be a mixture of analog and digital. And it manages that quite well!
Unwrap it, strap it on, try it out, use it for jogging, cycling and everyday life – that's how every review we publish on a smartwatch or fitness tracker goes. Because we at NextPit stick to a practical test procedure that should give you the impression you would get if you tried it out yourself. In addition to our test impressions, we've included other variables for these articles.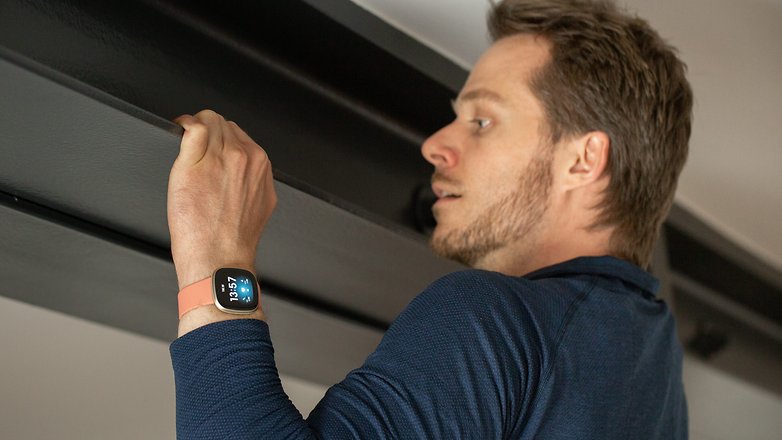 When did the smartwatch come out, how well does it serve what purpose and how do we rate the mass appeal of the watch. The Garmin Venu, for example, was given 5 stars as a fitness smartwatch. In my opinion, however, it is a little too fitness-oriented for most readers. Therefore, it could not get the first place as the best smartwatch.
Ideally, you are currently looking for a smartwatch and find the right model via this article. How well did that work out? Of course, we are always happy to receive criticism and suggestions in the comments. Also, tell us which model you bought or which you would like to see a review of on NextPit.
To finish off this list of the best, here are a few tips on what to buy! Because at the end of the year there are some bargain days coming up, where you can get many smartwatches cheaper. Here I have compiled an overview of the dates for the year 2022.
Upcoming promotion days
You might want to wait for these promotional days before buying a device:


| Action | Date |
| --- | --- |
| Singles Day | November 11, 2022 |
| Black Friday | November 25, 2022 |
| Cyber Monday | November 28, 2022 |
On NextPit, we will list deals on cheap smartwatches for each of these days. Alternatively, you can of course also go on the search yourself and look for deals on the web. Especially with smartwatches, however, it is recommended to try out the models in the store. Because the different case sizes and materials result in a different wearing comfort depending on the wrist.
Smartwatches are also often offered in bundle deals or as part of mobile phone contracts. This makes sense especially if you buy a model with an LTE module and are directly provided with an eSIM. You can find out how to find a good mobile phone contract for your smartwatch in the linked article.
Are you shocked by how expensive most of the good smartwatches are? Then don't hang your head, because maybe a fitness tracker will do the trick. Because so-called smartbands have most of the important tracking features and now even often shine with features that only smartwatches had a few years ago.
---
This best list was revised on April, 2022. Existing comments were maintained.