Dubai, 27 March 2022
Operating in 10+ countries and with a huge network of 15,000+ drivers, Dubai-based techno-logistics platform Trukkin wins Transport and Logistics Middle East's "Most Innovative Truck Aggregation Solutions Provider Award." The award recognizes innovative logistics startups that maintained supply chain operations throughout the pandemic and beyond.

TLME Innovation Awards–Encouraging Innovation and Entrepreneurship  
Maintaining an efficient supply chain is essential for a country's economic growth. An innovative and efficient supply chain helps keep goods moving, provides vital equipment, and delivers essentials such as vaccines and medication all over the world in today's scenario. The TLME Innovation Award, reviews, recognizes and celebrates the best and most innovative operations in each logistics and supply chain sector.
A Significant Award in Logistics
The COVID-19 pandemic brought the world to a grinding halt—but logistics and supply chain operations continued in the face of diversity to ensure that they deliver essentials worldwide. The pandemic forced the logistics and supply chain industry to embrace technology rapidly and brought disruptive innovations that transformed the way this industry works. The award recognizes disruptive innovators and logistics startups, and encourages others to rise, innovate and create safer, greener and more efficient supply chains.
Meet the CEO of Trukkin
Janardan Dalmia, popularly known as JD, has always had a penchant for solving complex problems with innovative solutions. An investment banker who has spent more than a decade in both developed and emerging markets, JD facilitated over $75 billion in M&A and financing assignments for clients globally. 
In Dubai, JD realized that the transportation industry in the Middle East was still waiting for their Industry 4.0 moment, when a technology-driven logistics startup would step in to revolutionize the way transporters and shippers do business.
Bit by the entrepreneurial bug in 2017, JD founded Trukkin—a technology-driven enablement platform that is revolutionizing the fragmented transportation industry in the Middle East and Pakistan. 
Trukkin's Vision as an Enabler in the Transportation Industry
The transportation industry needs efficiency, reliability and transparency. Trukkin aims to do just that. Trukkin will empower everyone involved in the logistics and transportation ecosystem by bringing them under one unified platform. Truck drivers, brokers, shippers and fleet owners can take advantage of Trukkin's revolutionary, purpose-built platform that will reduce costs, incidents of theft and improve their bottom line. Trukkin will help truck drivers get paid in time, shippers get real-time updates, brokers get more business and fleet owners to reduce their running costs, benefiting everyone in the process.
The Problem Faced by Logistics and Transportation Services Worldwide
The logistics industry worldwide is mainly fragmented and run by small and mid-sized operators. Due to this, they often have problems trying to increase business, improve their bottom line or scale up. 
Finding the right truck type for specialized cargo
Shippers often pay more per shipment or find their shipments damaged in transit as they cannot find the right truck size or truck type for their needs.
Antiquated methods cause cost overruns
Transporters are plagued with archaic book-keeping and cost control methods, leading to elevated costs, missed delivery deadlines, and a lack of a steady customer base.
Unfair practices due to low wages
Truck drivers are often not well-paid, leading them to cut corners or indulge in unfair practices to make ends meet.
Unable to meet demand due to limited fleet size
Brokers often find themselves in a situation where they either do not get better rates or cannot meet the demands of their customers.
Trukkin–A Solution to this Problem
Trukkin leverages the power of AI and IoT to create a seamless, integrated, world-class platform that brings drivers, transporters, shippers and brokers together.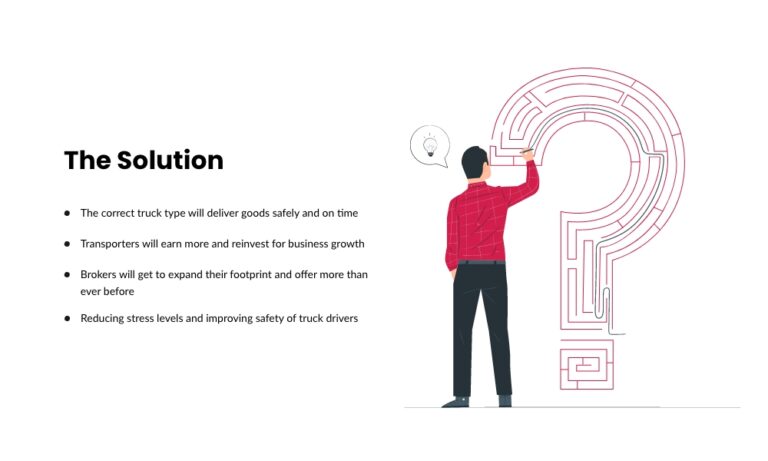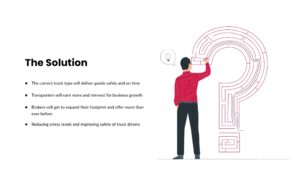 The correct truck type will deliver goods safely and on time
Shippers get the right truck size and truck type for their specific needs, reducing overall costs, delays in shipment and in-transit damages.
Transporters will earn more and reinvest for business growth
Transporters reduce their upfront costs due to reduced fuel consumption, better routes, and quickly meeting delivery deadlines, leading to better credibility.
Brokers will get to expand their footprint and offer more than ever before
Brokers get access to a large pool of shippers, transporters, truck drivers and Trukkin's innovative interface to ensure timely payments, more business and peace of mind.
Reducing stress levels and improving safety of truck drivers
Truck drivers benefit from optimized routes, directions to nearest fuel stations and service depots, and timely payments. This reduces stress and improves their focus on the road while driving.
With an integrated scheduling system and payment mechanism, intelligent, IoT-driven mapping and a world-class, intuitive user interface, Trukkin is setting the standards for what a modern logistics company should be like.
Trukkin – From a Logistics Startup to a Successful Organization
Since its inception as a tech startup in 2017, Trukkin has grown consistently to become one of the leading logistics platforms in the MENAP region. With over 650+ transporters, 15,000+ drivers and 75,000+ shipments moved to date, Trukkin has seen unprecedented growth of over 300% since 2020. 
Trukkin bagged the prestigious Road Transporter of the Year 2019, Best Brands 2021 UAE Edition and several other accolades.
They expanded to Pakistan during the pandemic, enhancing their reach to 12 countries in the region and attracting investor attention. This resulted in Trukkin raising $7M in Series A funding led by Emkan Capital in 2021. 
Their continued commitment to technology for the betterment of the logistics industry has helped them enhance their reach, enable faster delivery and create a transparent and reliable platform for shippers, truckers, transporters and brokers. 
Build an Innovative Logistics Platform with Volumetree
At Volumetree, we believe in leveraging technology to help organizations worldwide scale and offer better solutions to their customers and stakeholders. With the right technologies, direction, expertise and industry experience, Volumetree can help your organization reinvent itself.
Our product experts, designers, developers, test engineers and project managers will build the best solution for your needs. Whether you want to build a simple mobile app or a complex N-tiered enterprise platform such as Trukkin, our engineering teams are ready to help you make the right decision. 
Have a logistics project in mind? Let's build it together.